Alfastråling
De fleste atomkjerner er stabile, men vi har noen få som er ustabile. Det er disse atomkjernene som er radioaktive. Vi skiller mellom tre ulike strålingstyper fra radioaktive stoffer. Strålingstypene har fått navnene alfa-, beta- og gammastråling. Her skal vi forklare alfastråling.
I både alfa- og betastråling er det partikler som strømmer. I følge institutt for energiteknikk er rekkevidden for en alfapartikkel i lufta ca. 4 cm[1], mens i følge UiO har en alfapartikkel en rekkevidde på ca. 5-8 cm[2]. Ved alfastråling sendes det ut en heliumkjerne med to protoner og to nøytroner fra kjernen til det radioaktive atomet[3]. Alfastråling er altså heliumkjerner i stor hastighet. Hvis for eksempel grunnstoffet uran-238 stabiliserer seg, vil det da kaste ut to nøytroner og to protoner (tilsvarer helium). Da vil uran-238 blir det nye grunnstoffet thorium-234. Det er denne heliumkjernen som kastet ut av grunnstoffet som er alfastråling.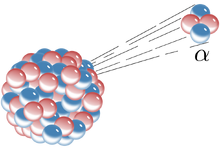 Bildet til høyre viser et grunnstoff som slipper ut to protoner og to nøytroner. Dette kalles alfastråling.